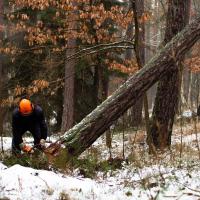 FSC is an internationally recognized certification and labeling system that guarantees that the forest products you purchase come from responsibly managed forests. Forests are certified against a set of strict environmental and social standards, and fibre from certified forests is tracked all the way to the consumer.
In November 2009, MTRI received $150,000 from the Federal Government's Community Development Trust

Fundto promote Forest Stewardship Council (FSC) certification of small woodlot owners in Nova Scotia. In 2011, Nova Scotia Department of Natural Resources allocated a further $100,000 to MTRI to continue the certification program and deliver research, training and education that promotessustainable forest management. 

MTRI has been guided throughout the project by a SmallWoodland Certification working group, with professionals coming from a variety of backgrounds and interests including representatives from woodland owners and operators organizations, foresters, and ecologists. The working group meets regularly to provide advice and guidance in the project's planning, implementation, monitoring, and evaluation. We would like to thank them for their advice and support!
---
Getting your woodlot certified...

In 2011, MTRI partnered with the Federation of Nova Scotia Woodland Owners (www.fnswo.ca) to help woodland owners to certify their woodlands under one collective FSC group certificate. This helps to keep costs of certification down, and has a number of benefits to woodlot owners.
Benefits of certification:
Landowners will be able to sell their wood/woodland products as FSC certfied, gaining any market preferences or premiums available
Reduced fees for training courses and workshops run by FNSWO/MTRI.
As a part of the annual FSC woodlot monitoring program, landowners will have a forest technician for one day per year to assist them as required
Networking with other certified landowners
Organizational support and a framework for sustainable forest management.
Copies of the Species At Risk Field Guide, FSC Guide, Woodlot Management Journal and Forest Best Management Practices Guide.
Costs of certification:
Under the MTRI/FNSWO program, there are two main parts to the cost of certification:
Management plan - Landowners who are interested in becoming certified must have a detailed management plan taking into consideration their personal management objectives and have a commitment to managing their woodland sustainably. A current WMP is required for FSC certification. At present FNSWO/MTRI is offering a 75% subsidy on WMPs for landowners getting their woodlot certified. For a woodlot between 100 and 200 acres, this typically costs $300-400 for the 25% landowner portion. This cost will increase as acreage increases. The plan includes recommendations based on cruise data using the Forest Ecosystem Classification and landowner objectives, and is reviewed every five years
Annual operating fee: $150 per annum ($50 per year for 2nd and subsequent woodlots under same ownership)
If you are interested in learning more about this project, or if you are a small woodland owner in southwestern Nova Scotia interested in FSC certification, please contact Jane Barker (jane.barker@merseytobeatic.ca) at 902-682-2371, or visit www.fnswo.ca for more information on the program. You can also visit www.fsccanada.org to learn more about the Forest Stewardship Council and their standards.  
Another great way to find out more about becoming certified is to read MTRI's "Guide to FSC Certification for Woodlot Owners in Nova Scotia". Contact us for a copy, or:
Click here to download the Guide to FSC Certification for Woodlot Owners in Nova Scotia (13.1MB)
Click here for a copy of our Certified Forest Products brochure
The initial phase of the project involved the development of a feasibility analysis to provide information to parties interested in becoming Resource Managers for pools of small woodland owners interested in FSC certification.
Click here to view the completed Feasibility Report (779KB pdf)
---
A Bit of Background…
Sustainable Forest Management 
Little woodland in Nova Scotia resembles the Acadian forests of the past. Early settlers harvested the best quality trees heavily for ship building and other early industries. The bounty of the forest seemed limitless. However, the poorer quality trees left intact seeded more freely, and so the diversity and quality of woodland was altered. Subsequent harvests did the same, so that what we see today is a poor cousin of the original forest.
Today we realize that forests are one of the earth's most precious renewable resources, and one that our future is closely bound with. More and more people understand that many harvesting techniques are damaging this precious resource, but also that alternatives exist. By encouraging a more uneven-aged growth and diverse species mix suited to the local environment, forests can be managed sustainably for future generations, safeguarding woodlands of high conservation value, as well as soils and wetlands.
Woodland in Nova Scotia

The forests of Nova Scotia are a part of the Acadian Forest, a unique mixed forest type lying to the north of the Northern Hardwood forests, and south of the Boreal Forest. In Nova Scotia, around half of all productive forests are small, privately owned woodlands. The way these are managed can, therefore, have a significant impact on the health of Nova Scotia's forests overall. However, pressures from national and global markets can make harvesting these woodlands sustainably uneconomic, an important consideration for many landowners. This makes it harder for landowners to justify the time and resources in managing their woodlands in a sustainable way.
MTRI & Forest Stewardship Council (FSC) Certification
As public awareness increases, so does demand for environmentally sound products. One way of fulfilling this demand is to track wood and woodland products from forests that are checked regularly to make sure they are managed in a way that ensures their long-term health. These woodlands are certified to guarantee to the consumer that woodland management techniques are monitored regularly and audited by a third party. As demands for certified wood increase, so does the opportunity for woodland owners to both benefit from growing market whilst working their woods in an environmentally sound way. Although premiums are not always paid for certified products, market access is more secure as the demand for certified wood and wood products continues to grow.
MTRI is promoting FSC as it is the certification system that is most closely aligned to its mission. FSC certification is an internationally recognized system that has a growing consumer demand, and ensures the health of the forest for future generations whilst protecting social interests. FSC also has a forest management certification system that allows many small woodland owners to form a group, bringing the cost of administration and annual audits down. It has regionally-specific Maritime standards that take into account local environmental and social factors and forest types.
 Since 2015, MTRI has been partnering with several organizations to help provide services to woodlot owners in western Nova Scotia through the development of the Western Woodlot Services Co-operative.
What is the Western Woodlot Services Cooperative Limited?
Western Woodlot Services Cooperative Ltd. (WWSC) is a not for profit organization that is designed to be owned and operated by the woodlot owners and offers management services that reflect the individual values in a trusting environment. They exist to serve the needs of woodlot owners in the seven counties of western Nova Scotia. 
The purpose of the WWSC is to provide management, operational, and marketing services for woodlot owners. The primary objective of the cooperative is to facilitate sustainable forest management that helps meet woodlot owners' goals and objectives for their forest. The Co-op provides services that make it possible for woodlot owners to responsibly harvest timber and/or to make improvements to their woodlot through various silviculture treatments. 
The WWSC's staff serve their members through providing the following services at a reasonable cost:
Woodlot management plan prepared by a forest technician in consultation with the landowner. The plan will include forest inventory information, volume estimates, and management recommendations.
Technical and financial assistance for various silviculture treatments.
Qualified supervision of all forestry work.
Contract arrangments for woodlot-related services as well as, information and advice on legal and financial matters concerning woodlot management.
Marketing of all forest products from the woodlot for a nominal fee.
WWSC will work hard to maximize returns to the landowner through the best utilization of wood products harvested. 
Access to current research development information and available programs in th eforest industry including non-timber woodlot values. 
Access to current aerial photo imagery and various woodlot maps.
Opportunities for woodlot certification with the Forest Stewardship Council (FSC).
The WWSC Organization
The WWSC has a General Manager, with support provided by a part time forest technician and administrative assistant. Support and direction will be provided through a 9-member Board of Directors elected by the membership at our Annual General Meeting. 
Members have the advantage of being part of a Cooperative that is owned and directed by its members. Each member has an equal opportunity to provide input into the direction of policies of the WWSC and are accountable to all memebers.
If you are interested in joining the Coop or becoming part of the Board of Directors, contact them today!
For more information or to contact them visit, www.westernwoodlotcoop.com, call (902) 523-2141 or email: westnova.woodlots@gmail.com
 
Where to find FSC certified woodlots, printers, mills and retail outlets in Nova Scotia
Map

Amos Wood Moulding and Millwork
Blockhouse, 902-624-8206
Siding, cabinet making and furniture wood, flooring,
trim, moulding, stair components and countertops.
AFT Sawmill Limited
Meteghan River, 902-769-3368
Green and kiln dried hard and soft wood lumber,
pallets, lobster trap runners and framing.
Finewood Flooring and Lumber Limited
Baddeck, 1-877-295-1654
Flooring, trim, moulding, stair components and
lumber.
J.A.Turner and Sons Ltd.
West Northfield, 902-543-7404
Lumber, decking, siding, and bark mulch.
Ledwidge Lumber Company Ltd.
Enfield, 902-883-9889
Soft wood lumber.
Payzant Home Hardware
Lower Sackville, 902-864 -0000
Lumber, panelling.
Taylor Lumber Company Ltd.
Middle Musquodoboit,902-384-2444
Spruce, Pine and Fir lumber, shavings, and
firewood.
 Windhorse Woods
New Germany, 902-543-6955
Specialty lumber, flooring, decking and
tonewood.
Advocate Printing and Publishing
Dartmouth/Pictou 1-800-236-9526
Bro Moc Print and Litho
Dartmouth, 902-481-2704
Repracorp Graphic Design and Printing
New Minas, 1-888-323-7833
Halcraft
Halifax, 902-453-4511
Transcontinental Inc. Printing
Halifax and Dartmouth, 1-877-468-9002
The Federation of Nova Scotia Woodland Owners
and the Mersey Tobeatic Research Institute
Stewiacke, 902-639-2041
Kempt, 902-682-2371
Nova Scotia Landowners and Forest Fiber
Producers Association
902-625-3800
Acadian Forest Keepers  
Picea Forestry Consulting
West Northfield, 902-527-1222